Blog


't was the year of our lord 2020 when all the reenactors came together in the village of Hohenwang to enjoy their life, fill their bellies with delicious food and wash their mortal bodies from all sins in the waters of the Günz, so that the horrible plague would pass them. It was there I was witness to the maiden Helena who was filled by the fire of the holy spirit fighting the devil himself in the body of a horrible beast not unlike a badger and executed the victory of light against the darkness and the heavens against the fires of hell. Awestruck, I could get hold of a piece of her bloody dress and I took it home to Vienna to create a vessel, worthy of the miracle. See here, what I contrived…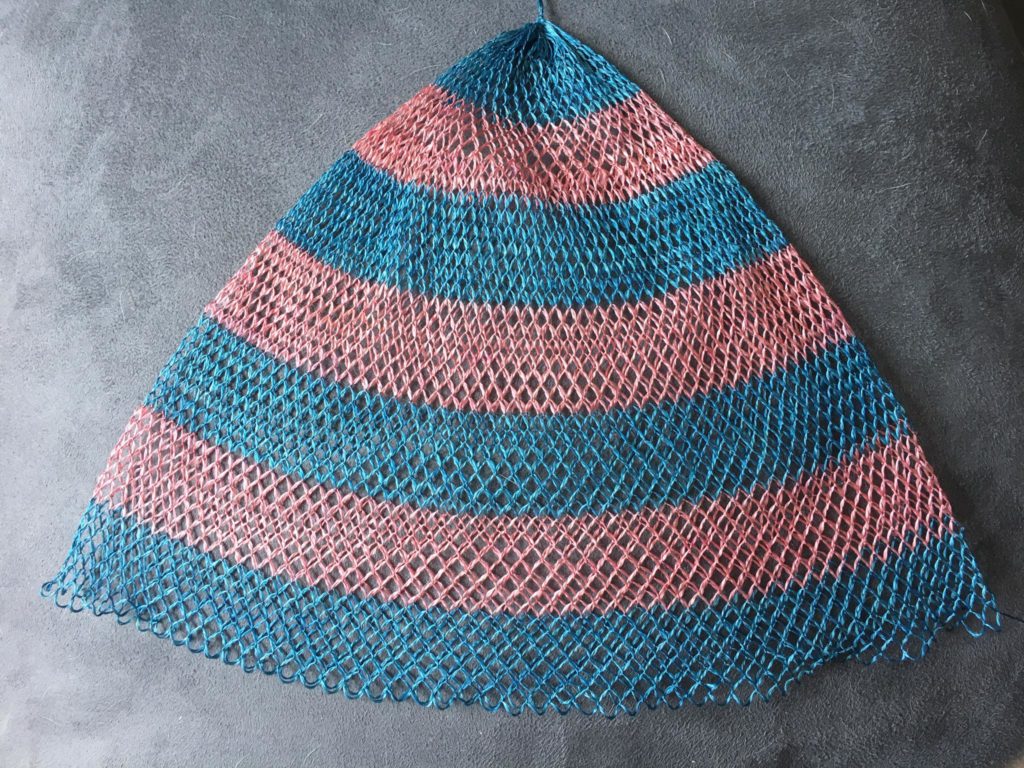 More pictures, less text this time:
(more…)

Short and sweet this time: I made a new hair ribbon, inspired by an extant ribbon from the London finds from the first half oft he 14th century.
The original, Nr. 451 was pink and yellow striped, made from silk and woven with 12 tablets, which (as far as I could see from the quite bad quality black and white photos in "Clothing and textiles) were Z-directed on the left half and S-directed in the right half of the ribbon.
I exchanged the colours into indigo dyed blue and reseda dyed yellow and worked with only 10 tablets that I directed in S and Z interchangingly.
This was a little training for me since I want to do one or two more difficult tablet weaving projects in the future.
The silk I bought – as always – from Marled Mader.
I would like to give a special shoutout here to Silvia Ungerechts. I am only a tablet weaving noob that does the craft only because I sometimes need a tablet woven ribbon for another project. But she is a constant inspiration and help to me that I really look up to
My original plan was to make a "normal" round-knit hairnet for a man. I had seen the hairnet exhibited in the Germanisches Nationalmuseum Nürnberg, which was described to be a Men's hairnet . I made a joke about it to my colleague Karl ("Höhö, a men's hairnet, I will make it if you wear it!") and became dire reality when Karl agreed to let his hair grow so we can try this.
But when I researched the original more, the museum told me, that there had been a flooding of the particular tomb this hairnet was found in and that all the contents got mixed and that one could not be sure this is really a man's, which is also written in the newest publications on the piece. But the hair was grown and it wanted to be held!!
In general I don't really feel pretty in my historical costume. My impression is a simple one, my clothing is practical and made after historical sources. That is about as much as it needs to be and my modern esthetics needs to give. Everything for the hobby!
But when I have to package my hair up and take the only thing away that will give my face structure, I at least want to do that with some high end accessories. I do that mostly in my citizen's wife impression.
And so from beautiful dark purple silk thread by Marled Mader aka. Archäotechnik textile Fläche I made a new hairnet, adorned with little pearls.

3 years. That is how long I brought this stupid project along with me on every holiday and every event, doing a few loops at a time, then loosing motivation again, throwing it into a corner and picking it up again some time later. Now it is finally finished with a bit more than 20 000 knots.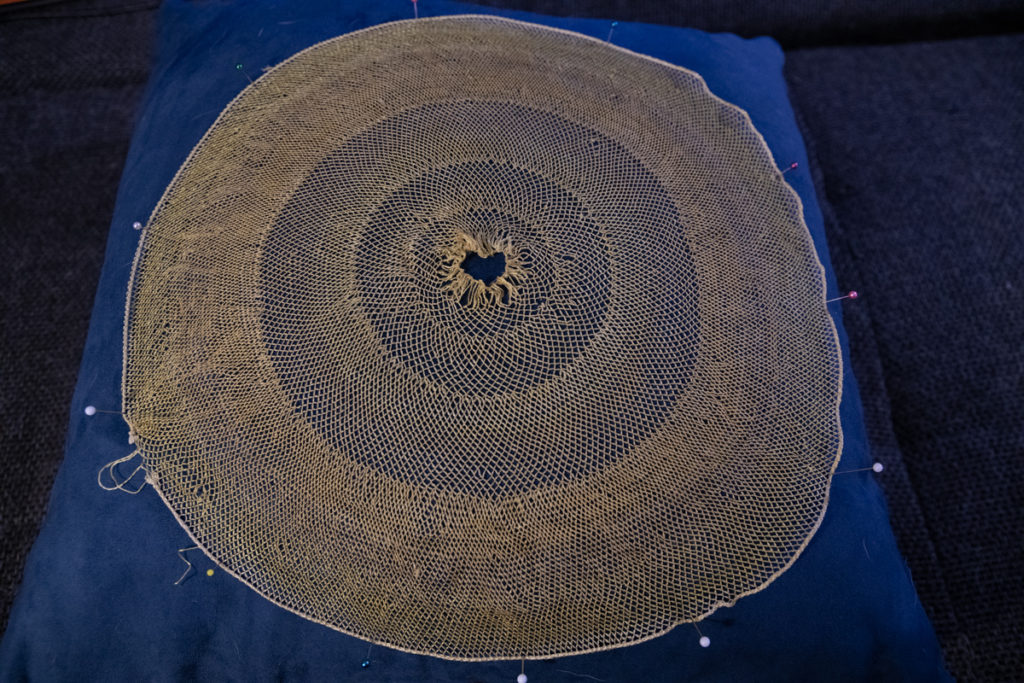 Our company colleague Viki has recently made a very pretty underdress with a supportive upper part for her mid 14th century impression and allowed me to write an article about it.

For years I have been wearing my natural coloured, practical wool dresses to do the dirty work on events, I wipe my dirty hands in them and do not have to take care of them a lot except when darning moth holes.
But someday, I said, I wanna be just as pretty as my colleagues and so I have been announcing that I will make myself a citizen's wife dress very soon…. for years. My colleagues made fun of me whenever I would bring the topic up again. "Yeaaaah, sure, you and the citizen's wife…" But it bugged me and after having some major hassle with the fabric orders I made for the dress, I could finally start.