Blog
I already own a warming hood with buttons for my simple impression and if it really needs to be very practical for work, I also like to wear my husbands hood. But I wasnt quite satisfied with the fit of my buttoned hood and the material didnt really fit my more expensive clothing more expensive clothing. So I needed another model which can be worn over a fine veil and as a fashionable accessory rather than be a warming garment for winter when I most probably will never take out my finer gowns with their overlength and delicate silk lined skirt edges.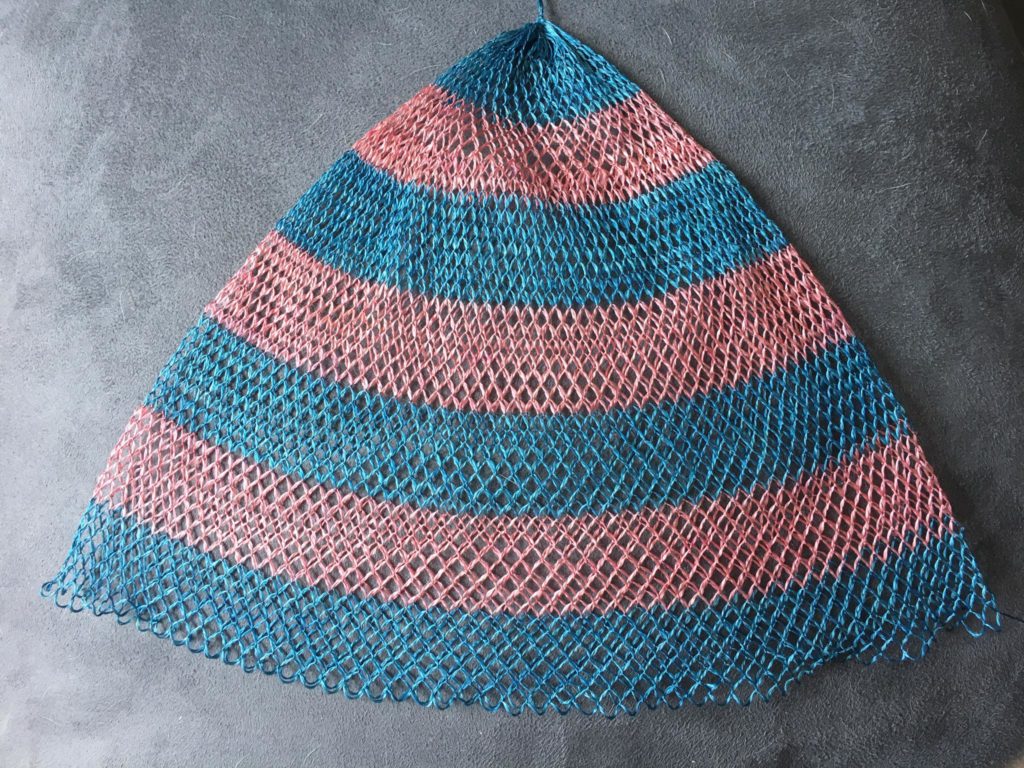 More pictures, less text this time:
(more…)

A dear friend still needed a very simple working-outfit for his wood workers impression. We still had this natural brown 2/1-twill ready which is quite robust.
I showed you some of the basics to making simple kyrtles for this time in this article here.  It is really just two rectangles for the front and the back and 4 triangle shaped side gores. The tight fitting neck opening is closed with 3 fabric buttons and the arms are closed with one fabric button.
Obviously, all seams are handsewn and hae a butterfly refinements.

Short and sweet this time: I made a new hair ribbon, inspired by an extant ribbon from the London finds from the first half oft he 14th century.
The original, Nr. 451 was pink and yellow striped, made from silk and woven with 12 tablets, which (as far as I could see from the quite bad quality black and white photos in "Clothing and textiles) were Z-directed on the left half and S-directed in the right half of the ribbon.
I exchanged the colours into indigo dyed blue and reseda dyed yellow and worked with only 10 tablets that I directed in S and Z interchangingly.
This was a little training for me since I want to do one or two more difficult tablet weaving projects in the future.
The silk I bought – as always – from Marled Mader.
I would like to give a special shoutout here to Silvia Ungerechts. I am only a tablet weaving noob that does the craft only because I sometimes need a tablet woven ribbon for another project. But she is a constant inspiration and help to me that I really look up to

With this hairnet project I wanted to tackle several ideas and goals I held.
My original plan was to make a "normal" round-knit hairnet for a man. I had seen the hairnet exhibited in the Germanisches Nationalmuseum Nürnberg, which was described to be a Men's hairnet . I made a joke about it to my colleague Karl ("Höhö, a men's hairnet, I will make it if you wear it!") and became dire reality when Karl agreed to let his hair grow so we can try this.
But when I researched the original more, the museum told me, that there had been a flooding of the particular tomb this hairnet was found in and that all the contents got mixed and that one could not be sure this is really a man's, which is also written in the newest publications on the piece. But the hair was grown and it wanted to be held!!

This year, at the medieval days in Bad Windsheim, the topic was early 14th century in our part of the open air museum. I urgently needed more layers against the cold in the unheated original medieval houses.
So I did some research into sleeveless surcoats that would fit the time around 1320-40 as a representative dress for Sundays and a rather more simple household (this discussion is really a tedious one, since the question as to what is considered "simple" or "wealthy" and how poor a crafter would be or how rich a nobleman, what is considered a "maid" or "citizen" is very difficult to answer, so I have become careful in using those words.).
We have talked about it before. After about 8 years of events, we used up the last  bits of our homemade tallow reserves and needed new material (of course we also bought and used some ready made tallow in the meantime).
Our event at the open air museum Bärnau was the ideal occasion for cooking it. I ordered about 5 kg of beef fat a the butchers for app. 15 EUR.
In general I don't really feel pretty in my historical costume. My impression is a simple one, my clothing is practical and made after historical sources. That is about as much as it needs to be and my modern esthetics needs to give. Everything for the hobby!
But when I have to package my hair up and take the only thing away that will give my face structure, I at least want to do that with some high end accessories. I do that mostly in my citizen's wife impression.
And so from beautiful dark purple silk thread by Marled Mader aka. Archäotechnik textile Fläche I made a new hairnet, adorned with little pearls.