A (german) bathing hat from the 14th-15th century
As a guest of dear interpreter friends from southern Germany, I was part of the Mittelaltertage im Freilandmuseum Bad Windsheim event during which several interpreters from early and late medieval period are living in the houses of the open air museum for several days.
Since the local hospital celebrated it's 700 year anniversary, there was a wonderful special exhibition in the nearby Museum Kirche in Franken on the topic of medieval and post medieval hospitals which two of the leading interpreters of our part of the event were involved in creating.
This anniversary was our inspiration for the 14th century part of the event. In 3 different houses we recreated different parts of the hospital business and showed different aspects of care for the sick and the administration of the hospital. A detailed report of the event will follow soon.
Each of the 20 interpreters involved had a certain topic or area to prepare and me and Thomas, my IG14 colleague chose to manage the bathhouse integrated in the hospital due to our previous experiences in that topic . For this I still needed some equipment.
During my research on the topic, in textual sources I came across a certain "bathing hat" which the guests of bathhouses seem to have been wearing in the sauna/steambath of the bathing house (more information on the bathing process in our video on that topic). For our first try we simply used our everyday straw hats since we had nothing else available, but this is actually not the model shown in original pictures of the 14th, but mainly 15th and 16th century. In these you can see a sort of pillbox shape, sometimes with a little knub on top.
I previously interpreted this picture here to be a hairnet, as can be seen on the bathhouse-babes in the Wenceslas bible a lot. And it could be. But comparing it with later pictures, it could very well also be the ominous bathing hat.
Find more original picture sources in this collection of mine
Since most pictures give me the impression of a straw hat, I made it from straw braids as are my other hats and the form was very well doable in this technique. I even managed to make the little knub from straw braids, although I am not certain it was in this form in the originals.
This original bathing hat of Philippine Welser from the 16th century (today at Schloss Ambras museum) confirms the material choice and the form, even though the execution is way more intricate and expensive due to the high status of Philippine.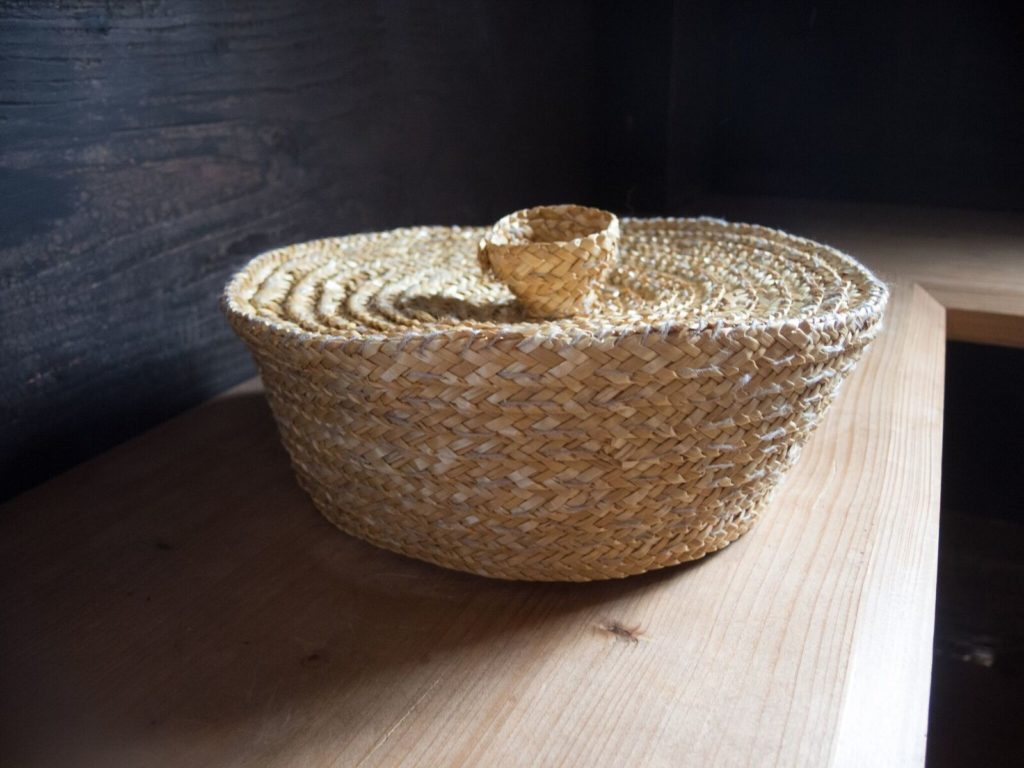 Zum Weiterlesen:
Im Städtischen Bad vor 500 Jahren – pdf (german only)
Our article on 14th century Viennese bathing houses (summary in english on the bottom)
Related Posts
The following posts might interest you as well: