A Butter-churn
During vitalizations of open air museums, we often have the problem of missing tools for the every day tasks that are supposed to be the main occupation during vitalizations (as opposed to workshops, historical craft and shows). When showing every day life in historical houses, you need a lot of equipment that is often not provided by the museum itself.
Butterchurns are one of these every day life tools.
We have been dreaming about owning one for quite some time, but the models offered were either very costly (sorry, it is beautifull and very well made, but I just can not spend 400 EUR on a butterchurn) or they were very crappily made.
We finally found this jewel here on Etsy.
Not only does it look good, it is sturdy, doesn't leak and is bound with willow branches. I couldn't ask for more. After a 1-month delivery from Ukraine, I held it in my hands finally.
By the way, what did historical butter churns look like in 14th century Austria?
We only have this picture here from the late 14th century Castello Buonconsiglio, South-Tyrol (upper-Italy) for a closer reference.
But compared to other models from earlier and later periods in Europe I did not think twice about buying this one.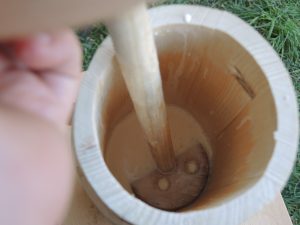 Last weekend we could finally try it out.
I filled in 1 liter of sweet heavy cream (the churn is made for 2 l, but I wanted to avoid making a mess) and headed to work. It is really not as simple as I thought. (And I am really not as ugly as I look from this perspective :-D)
After about 15 minutes, you can feel little lumps forming at the bottom of the churn, the little clots of butter are being pressed to the bottom, while the milky whey remains at the top. You can simply pour out the whey and take the butter out by hand or with a spoon.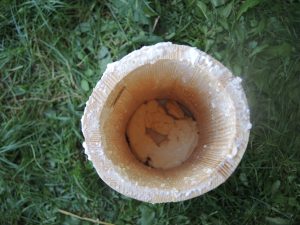 Here you can see all the butter on the bottom.
Finally we washed the butter a little bit to get the last whey out and…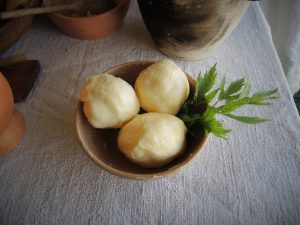 Tadaaaa! Our first homemade butter!!
More about buttermaking here