Simple coif/cap
I made this simple cap after several depictions and the cut of the Saint Birgitta's coif, which I would like to use as a day to day piece, alone for work or under different veils, hoods and scarfs. Actually it is quite stupid I did not have one for so long since it is so practical!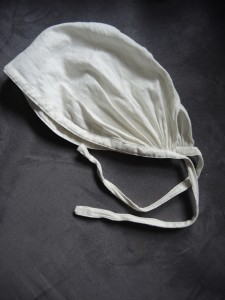 Unfortunately, though braided hair is very nice for attatching veils, scarfs and co, but always can be seen through the fabric and makes these "sausage"-like knots under the veils, which I have never seen in original pictures. With this solution I can keep my hair loosely braided in the back, they can not disturb me while working and the coif makes a great base for any attatchements.
Different from the St Birgitta's coif, I did not put in an embroidered seam in the middle since I really have not seen that a lot in the original pictures and I wanted something not really related to the omnipotent Maciejowski-Bible/Morgan Bible but as in the pictures from the 14 century.
It is a bit too long in the back, but you can not see that when I wear it bound tightly. That will be something to change in my next try.
For the reconstruction I very much recommend "Medieval Clothing and Textiles", Volume 4, in which you also find a nice pattern. But you will also find several tutorials online in the style of the St Birgitta coif.
You can see a picture of loose ribbons bound in the front here