Blog
All posts from the category "Clothing".
Usually on this blog, you are moving between the late 1340s and the early 1350s, but today, we are making a little trip to the very early 14th century.
A project I started just for fun and training during the pandemic is finally finished.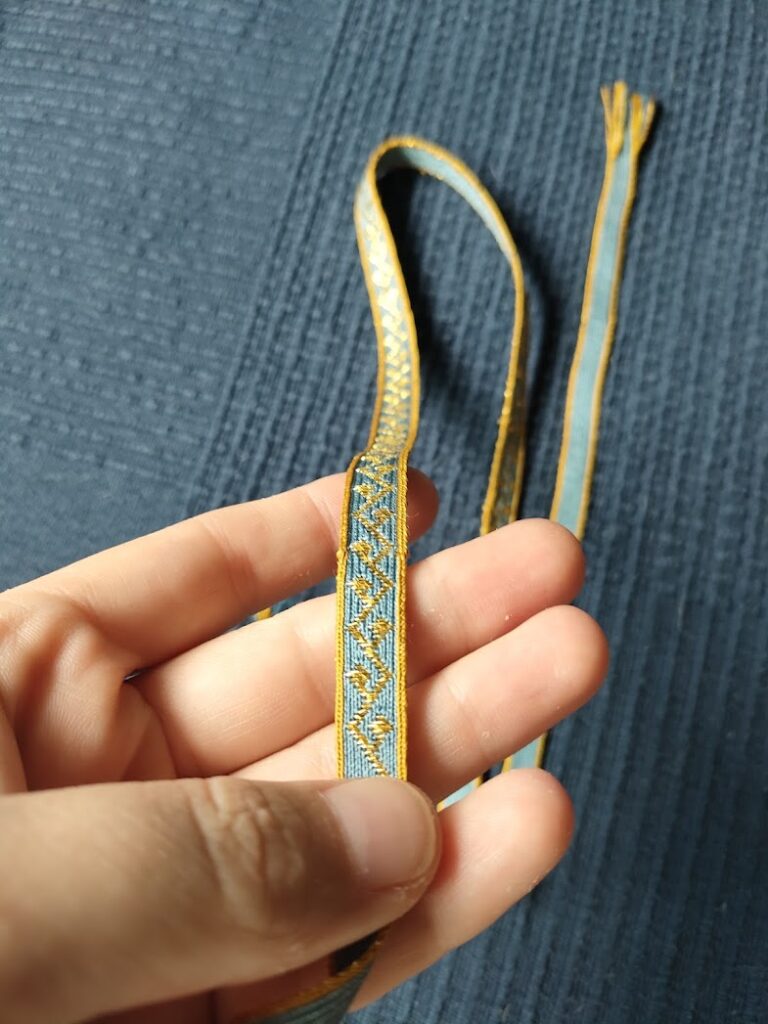 I wanted to train my brocading skills a little more and had access to some very pretty fake gold thread which I really wanted to try out more. So I made this filet/headband in a pretty sky blue with a golden yellow border. (more…)

Hold on, you are not on the blog of my dear friend  and colleague  Niklas, der Girdler! No, this time, I will tell you about this belt myself, even if Nikolaus did have his fair share to do with this piece.
My impression of a wealthy crafters wife is slowly but surely being finalised. One large project that I had postponed for a long time and which I was working on for far too long, is finally finished. A belt suitable for this ensemble.

I am incredibly unlucky with my garters. After loosing my first ones made from leather with buckles, now I lost my woven ones too and I needed new ones. They should be flexible, which wool provides and I chose a coarser wool that clings to the stockings. And they needed to be pretty broad in order to spread the pressure the right way. Other materials often bunch up and then cut into my legs. (more…)
Ich recently could get my hands on some pretty convincing fake gold thread and now I have some projects I had always wanted to do. One of them is a gold brocaded tablet woven filet ribbon which I had been inspired by an extant original by.
I want to show you another tablet woven piece of mine which I made for a young interpreter colleague of mine.
I already collected the evidence for silk filets in this article of mine.

Just a short documentary entry for a little textile shenanigan:

Shortly on the wording: For the main undergarment in medieval times, there is a multitude of words in use. Chemise, Smock, Pfait, Hemd, Hemed, Wat etc. I will switch between Smock and Underdress here, in Austria, the best word to use would be 'Pfoad'. 
Since my old smock that I had for about 8 years, had been getting quite worn, the seams hat been tearing and the hem was already an ugly brown from all the mud it encountered over the years, at some point, and washing did not help against the discoloration any more, I had taken it apart completely and made a supportive underdress from it. I did unfortunately not write an article about it, but if you are interested in the construction you can see a bit more about those underdresses here.
So I only had two sleevless underdresses for the last two years or so which is nice for hot summer days, but a long-sleeved underdress has its merrits, it keeps you from sweating too much and makes for more warmth in winter.
So I had to have a new sleeved underdress.

Go on, this last one I still need to do for the #pluckingroses Challenge. :-D 
Here is my impression of a "secret woman" from the second half of the 14th century.