Softly bedded – A long hovedpole/bolster
Via a Blogpost by Zeitensprung I was inspired to think about my bed-equipment and I thought, I might be in need of a hovedpole/bolster for my bed. And I finally finished the long planned project.
König David und Abischag, um 1336, cod. 168,I, fol. 175r, Benediktinerstift St. Lambrecht, mit freundlicher Genehmigung von Imareal
Geburt des Hl. Nikolaus, um 1475, Filialkirche St. Nikolaus, Klerant, Südtirol, mit freundlicher Genehmigung von Imareal
The original pictures of these bolsters ( see the collection here ) are numerous. These pillows that covered the full width of the upper bed end, were very popular in late medieval times and appear often in combination with smaller, square sized pillows. The bolsters are used to keep the sleeper half-upright in his bed and so they are kind of an intermediate between pillows and matraces. I suppose that it is due to this that often you can not see the bolster itself, but only a large bulk on the end of the bed, covered by the sheets or comforters/blankets. But these bulks are almost always a part of the bed. Here I collected some pictures from only 14th century sources.
In some medieval texts, the hovedpole/bolster is also mentionned. These two articles are citing some of the relevant texts and also offer some really good information about medieval bed-sets:
Sleeping medieval – Soldiers, knights and travellers
Sleeping medieval – Monks, nuns and monastic knights
I executed the bolster in white handwoven linnen with woven stripes from the flee market (in Austria, these usually come from some farmhouse terminations or so, where handwoven linnens are to be found quite regularly, they have often been part of the dowry until 100 years ago). The stringmaterial of the yellow stripes is dyed so patchy, that it might even be a home-dye-job with natural dyes.
I simply made a long hose and tried to make nice, decorative folds in the end to bring the fabric together in the middle. In the original pictures it is almost never possible to see the pattern for these bolsters, theoretically you could also use two circle shaped ends, but usually the bolsters look a little more "saggy" on the ends. In the article above, a hovedpole is shown but I could not verify if it is a medieval original.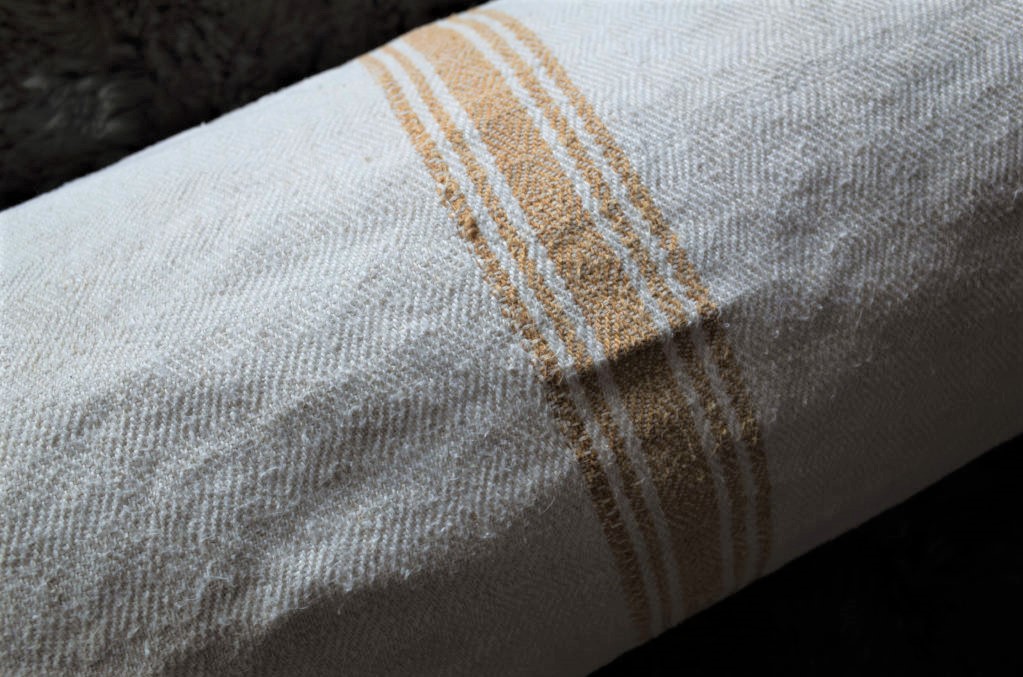 I filled the bolster with modern anti-house-dust-mite-filling to prevent me from getting my asthma, but usually, fresh straw or hay will also work for me if exchanged regularly, so I might just swap the filling during the next event, if I can get any.
Related Posts
The following posts might interest you as well: