A leather bag
Nowadays, I do not have as much luggage with me as I used to, when I was still visiting medieval markets as a non-participant. Lighter, Mobile phone, 2L of Mead, 300 EUR for overrated fast food, jewellery and nonsense, huge cloaks, flutes, beakers and provisions – that is what I used to pack.
Today, all I have with me when on an event, is a knife fitting into my leather purse.
But our camera, with which we document our events, needed a period solution to pack it, waterproof and away from visitor's gazes. So I at last needed a small bag.
Here I collected original pictures and finds that inspired my reconstruction, please have a look at the collection, I used several elements from different sources.
I wanted a small and light bag with a half-round lid since that is a form which can be seen very often. And I wanted it to be made from leather. Many of the sources look like the bags are made of leather and leather is robust and waterproof, an ideal material for traveling baggage. I suspect that most pilgrims bags were in fact made of leather.
My husband made the basic shape for me and I got the nicer work of embelishing it.
Since it can be seen on bags very often, I decided to use tassles with turcs head knots on them. Examples can be seen here and here and here and here and here and here. And I also made them from leather, inspired by the leather tassle finds from Schleswig and since the original pictures often look like the tassles are from the same material as the bag. I have even been thinking about adding more turcs head knots on the sides, because it is very common, but this will probably be a task for long winter evenings. It was a pain in the ass to have these turcs heads sit tight and tidy.
For the fastening I chose a toggle as can be seen here or here or here for example. I made it in the same technique as the turcs heads and I think, it looks very nice. The idea to make the toggle from leather, I referred from this picture here, which shows simple leather cord toggles and I thought, if I already use them in the tassles, why not as a toggle as well?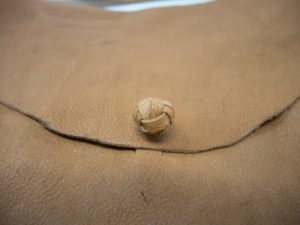 And another picture with a filled belly, because it looks nicer.
Further readings:
Another leather bag from our colleague Nikolaus.
Related Posts
The following posts might interest you as well: