Blog

Just a short documentary entry for a little textile shenanigan:

Shortly on the wording: For the main undergarment in medieval times, there is a multitude of words in use. Chemise, Smock, Pfait, Hemd, Hemed, Wat etc. I will switch between Smock and Underdress here, in Austria, the best word to use would be 'Pfoad'. 
Since my old smock that I had for about 8 years, had been getting quite worn, the seams hat been tearing and the hem was already an ugly brown from all the mud it encountered over the years, at some point, and washing did not help against the discoloration any more, I had taken it apart completely and made a supportive underdress from it. I did unfortunately not write an article about it, but if you are interested in the construction you can see a bit more about those underdresses here.
So I only had two sleevless underdresses for the last two years or so which is nice for hot summer days, but a long-sleeved underdress has its merrits, it keeps you from sweating too much and makes for more warmth in winter.
So I had to have a new sleeved underdress.

Go on, this last one I still need to do for the #pluckingroses Challenge. :-D 
Here is my impression of a "secret woman" from the second half of the 14th century.
I could not resist executing another reconstruction from a great written source for my #pluckingroses Challenge.
My reconstruction is based on a court file from the end of the 13th century. The case was revolving around a Ms Bertolina, nicknamed "Guercia" from Bologna who was charged with sodomic practices (meaning sexual practices that were considered to be abnormal). I can't tell her story any better than this amazing Podcast here (transcript can be found in this article here). I can really recommend this read, because Guercia seems to have been a very unusual woman and in my opinion a great example of women's emancipation in the middle ages.

One can absolutely not have enough leather bags for all the small items of everyday Hobby use. And since I have a lot of free time at hand at the moment, due to Lockdown measures, I finally made this project happen as well, making my own leather bags.
When reconstructing medieval life, especially medieval clothing, one needs to maintain a fine balance. Especially if one is not 20 any more, you have more options for going about your impression. Because there were without question those who did not follow the latest fashion, those who work hard, who are very religious or who generally follow more conservative views of fashion. We know of those people when we read moral texts from our period, when we read sumptuary laws, inheretance registers and mundane letter correspondences.
But the decision, which elements to choose for a certain point in time and a certain region in order to appear conservative or fashion-forward, is difficult. You choose between profane and religious art, between what moral writers condemn and what they propagate, between local tradition and foreign influence.
At the moment I am planing a very unusual surcot for my 1350s wife of a well-off crafter. When researching, I did however come across many overdresses that were quite conservative, loose cut and not exactly what other countries in this time already had to offer. So without question, there was still a large trend for that kind of clothing in my area as well.
So I decided, in order to extend my repertoire, i should also make a version of a surcoat that mirrors this world view and started an inbetween project.
This is my entry for the #pluckingroses challenge. If you would like to read up the rules of the challenge, please follow the link to the article and see more entries and content on Instagram and Facebook.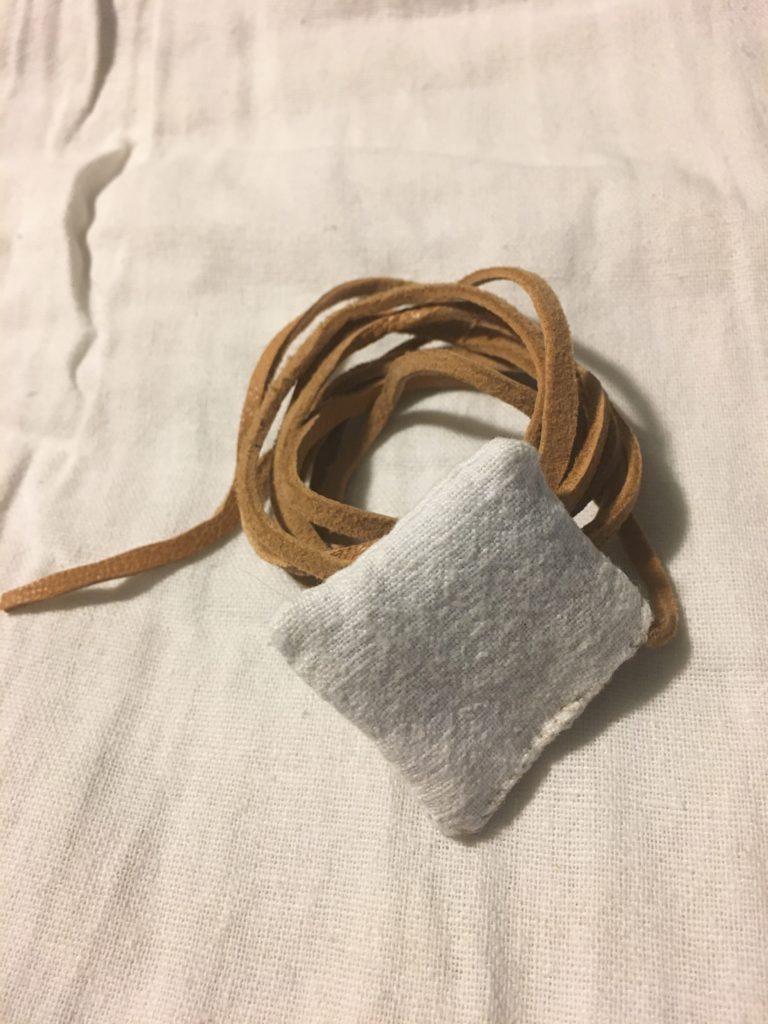 For my entry I chose a contraceptive amulet, a fairly unspectacular piece but it has a very interesting history… (more…)

There have been different ways for everybody in the hobby to cope with our 2020 situation, I personally really liked the many challenges and community activities that this pandemic brought. It kind of felt like the Living History grew closer over borders and countries although most were unable to meet others.
I especially liked challenges for craft projects (please also see my projects on our IG14 Ensemble Facebookpage) in which you had to research a specific given topic which you might not have thought about too deeply before and make it your project to recreate an item for your living history work.
And if there is several other participants involved as well, it gets even better because you see so many different ideas and talents from your fellow living historians and learn something new from them!
So we thought well, it needs more challenges like it to give us motivation to start something new and when Rosalie Gilbert released her new book about womens sexuality in the middle ages, I thought this was the perfect challenge. There is so much to learn and know in theory about Sex in the middle ages, but when it comes to the living historians core competence, which is really the recreation and presentation of material culture, you don't really see a lot of reconstructions in that area. 
The Challenge: I would like to see practical reconstructions fit for a living history presentation or event that are falling into the broad spectrum of sexuality in history.
It could f.e. be an identifying piece of clothing for prostitutes after your local sumptuary laws, it could be an amulett against conception, it could be a medical application against sexually transmittable deseases, it could be a sexy underdress, it could be a written letter with saucy poems a la Gwerful Mechain, it could be a fish hide condom, it could be a tin badge of a flying penis, it could be a dildo, it could be an allegorical or explicit sculpture or painting, it could be a pair of tweezers for body hair removal, it could be cooking a dish with an aphrodisiac effect, etc etc etc…. whatever you choose to be your project, it is worthy of the challenge. This is mainly supposed to be fun!
The only criteria that needs to be applied: You need to do it like a living historian. That means using sources, either archeological or written or pictoral to base your reconstruction on them.
How explicit or non explicit you present your works is up to you, I would guess however that social media plattforms will give a certain frame to that. Please dont forget to tagg your entry with #pluckingroses !
Obviously living historians from all eras, impressions and regions can enter!



't was the year of our lord 2020 when all the reenactors came together in the village of Hohenwang to enjoy their life, fill their bellies with delicious food and wash their mortal bodies from all sins in the waters of the Günz, so that the horrible plague would pass them. It was there I was witness to the maiden Helena who was filled by the fire of the holy spirit fighting the devil himself in the body of a horrible beast not unlike a badger and executed the victory of light against the darkness and the heavens against the fires of hell. Awestruck, I could get hold of a piece of her bloody dress and I took it home to Vienna to create a vessel, worthy of the miracle. See here, what I contrived…